How are vacuum insulated stainless steel water bottles made
Ecoway Houseware Limited | Vacuum Insulated Stainless Steel Water Bottle | China OEM Manufacturer
OEM Contact: sales@ecohydration.net
Tell: 86 579 8277 0367 / 86 769 2201 6525
__________________________________________________________________________________________
First of all, let's have some basic understanding how vacuum insulated stainless steel water bottle works?
How we working on your custom design vacuum insulated water bottle projects to be manufacted from tooling development, prototype sample, trial run sample, mass production to final shipment?
OEM CONCEPTS:                                                                                                                                                                                                                                                                                                                                                                                                  You reach out our team with design drawing sketch 3D solidworks or 2D CAD or   prototype samples for your custom design new BOTTLE/VESSEL/JUG products to a pointed market/usage/potential order quantities, our engineer will review all documents and have feedbacks for you with design modification advices & mould cost & product cost for your consideration.
MOULD MANUFACTURING:                                                                                                                                                                                                                                                                                                                                                                                   With the agreement contact on mould cost/product cost/payment term/lead time/product specs, we design tooling and process tooling manufacturing after your approval, finished trial run samples to do relevant testings in labs.
PROCESS CONTROL:                                                                                                                                                                                                                                                                                                                                                                                     After confirm and approve official samples and product specification documents, we arrange mass production based on your issued PO, incoming material inspection, process inspection, final inspection, samples testings, then ship good quality goods for your pointed station.
___________________________________________________________________________________________
What's the main manufacturing processes of vacuum insulated stainless steel water bottle?
Manufacture double wall stainless steel insulated water bottle: "Outer wall & inner wall", manufacture the shape and size as design drawing specs.
Copper Coating: copper coating on the inner wall which enhancing heat preservation performance
Welding: welding the mouth edge, bottom
Grinding: grinding the welding seam
Vacuum Process: create vacuum space between double wall, and test 100% vacuum insulation
Electrolysis: electrolysis process to create a inert layer on the surface of inner wall to make it good surface and not easy  to get rust.
Polishing:polishing the bottle flask to have good quality surface.
Vacuum Test: test vacuum insulation of stainless steel tumbler 100% again
Surface treatment: different options for surface treatment, such as spray painting, powder coating, water transfer etc.
Custom printing: custom printing with different method, such as pad printing, heat transfer printing, laser etching etc.
Inspection and assembly: inspection, asembly with lids, gasket, sleeve, gift box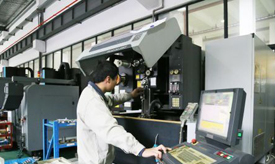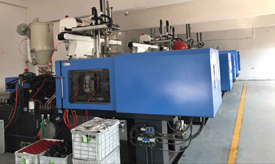 Tooling manufacturing room                                   Plastic bottle cap injection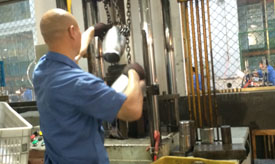 Water pressure forming process                             Stainless steel bottle maching process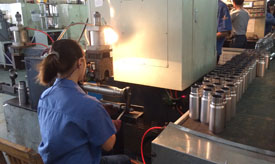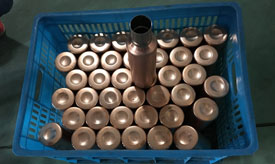 Stainless steel bottle maching process                   Copper coated stainless steel bottle inner wall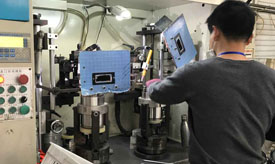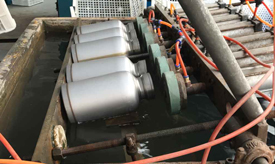 Stainless steel bottle welding process                    Stainless steel leaking test (bottle body)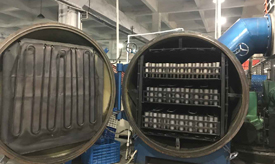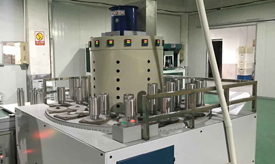 Stainless steel bottle vacuum process                    Stainless steel bottle vacuum test process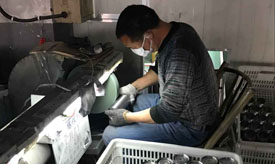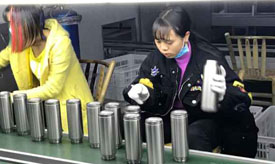 Stainless steel bottle polishing process                   Inspection after polishing 100%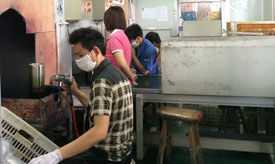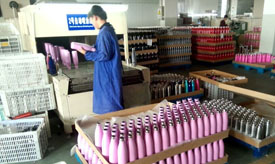 Spray painting for stainless steel bottle                   Inspection on baking line after painting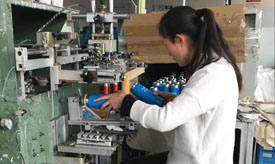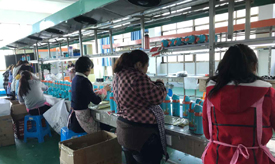 Silk-screen printing for stainless steel bottle             Assembly line for stainless steel bottle
________________________________________________________________________________________
Why working with us for your custom design vacuum insulated stainless steel water bottle projects?
___________________________________________________________________________________________
Some characteristics of good quality stainless steel water bottles are:
Vacuum Seal Insulation – Nowadays, vacuum sealed bottles can keep liquids hot and cold. The highest quality bottles are all made with a vacuum seal, and if you plan on purchasing a stainless steel bottle, a vacuum seal is a must.
Proven Results For Maintaining Temperature – Many bottles claim to keep ice for more than 24 hours and liquids hot for more than 12 hours, but not many actually do.
____________________________________________________________________________________________________
Final Important facts to note about stainless steel water bottles:
Made In China Does Not Necessarily Mean Low Quality – A popular stigma in american society is that products from China are low quality and break easily. Actually, many of the products we utilize every single day and rely on are made in China, and most are high quality. An example would be iPhones and Android Phones, as well as most of the steel we use to build the very buildings we live in and roads we drive on. When searching for stainless steel water bottles you will find most, if not all of them are constructed in China.
Different Caps For Different Uses – Stainless steel bottles come with a variety of different lids and caps, all meant to function a certain way. If you are transporting soup or a very hot liquid within the bottle, then a screw top lid or stainless steel lid would be the most adequate to use. If you plan on using your bottle at the gym, outside, or while on the go, the best lids to use are straw lids or sport lids.
BPA Free Bottles Only –  BPA stands for bisphenol A. BPA is an industrial chemical that has been used to make certain plastics and resins since the 1960s. Many companies still use BPA to produce different plastic products and items. many stainless steel bottle manufacturers are 100% BPA Free, but not all are. Before you purchase a stainless steel water bottle, make sure that there is no BPA present in the bottle.